My father, Eugene 'Edaw' Wade is the kind of man that you want to become. His uncompromising belief that we all have a purpose in life comes through in his extraordinary body of work.
His early oil paintings depict a world of love and struggle, in a depth and style this is unique only to those truly talented.
During his early years as an artist, Edaw spent much of his life painting on canvas with oil and acrylic. His murals grace the walls of many Chicago streets, to tell our story in a picture painting woven in history.
(Edaw with his bronze sculpture, 1973)
(Heritage mural, 1980)
(Edaw and his 'Working Hands' mural, 1990)
(Edaw at
Kennedy King College
working on Black History mural, 1999)
He is a true testament to how artists and adults can adapt with a new Digital age. At the age of 60, Edaw added Digital Painting to his creative repertoire. He fell in love with digital art creation, and discovered painting on a computer screen was just as exhilarating ... without the mess! With the right tools and software, a
Wacom Drawing Tablet
,
Coral Painter
, and Photoshop software he is part of the mastery of creation at Custom Canvas Art. Where artists can create art on all mediums ~ walls, doors, canvas, paper, and computers.
Ah, the beauty of technology!
(Digital art made from Kennedy King mural of Kennedy & King! 2007)
AND TODAY ...
(Marty and Edaw in studio with canvas printer, 2008)
Edaw Wade was a Teacher of Drawing, Mural, and Painting classes as a tenure professor with the
City Colleges of Chicago
for over 30 years. In 2006, he retired to a his dream home town in Zachary, Louisiana to work on his craft and continue teaching. Edaw's murals can be seen gracing the walls of Chicago streets, and depict the glory and struggle of American life. He holds a Master of Fine Art from
Howard University
.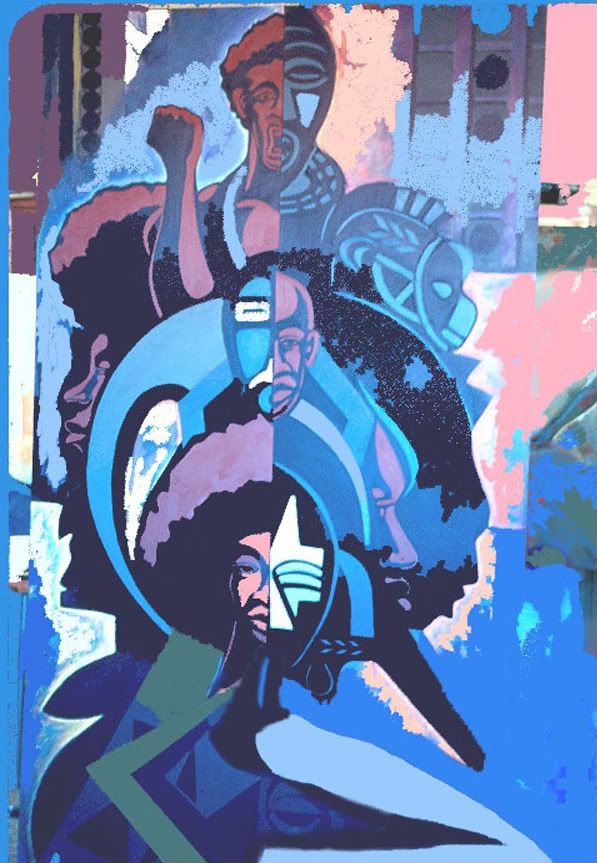 (Rebel! Malcolm X, Martin Luther King Jr and Angela Davis, by Edaw Wade, Digital Art 2008)
See more of Edaw's work
Custom Canvas Art Gallery: ARTWORK
To contact the artist email :::
eugene.wade@gmail.com